In the May 2020 edition of British Vogue, model, actor and activist, Jillian Mercado, highlights the importance of technology in her daily life. and how her Quantum Edge with iLevel seating ensure she can achieve her dreams.
" Many people in the disability community rely on technology to survive, yet no one really talks about it. Living with muscular dystrophy, technology is the reason I'm alive and able to be so autonomous. Hopefully my story has inspired other to reach for their dreams "
Jillian Mercado (born April 30, 1987) is an actress and American fashion model represented by IMG Models. As a wheelchair user due to muscular dystrophy, she is one of the few professional models who has a physical disability in the fashion industry. A prominent figure in the new wave of models challenging beauty ideals in the fashion industry, Mercado is keen to fight the lack of representation of people with disabilities in the fashion industry and their enduring stigma.
In 2014, Mercado featured in her first campaign, for designer denim brand Diesel.  Its success captured the attention of IMG Models landing her a modelling contract with IMG in August 2015. She has since starred in several campaigns. In March 2016, Mercado was announced as one of three models to appear in the latest campaign for Beyoncé's official website, promoting merchandise for the singer's new single and 2016 Formation world tour.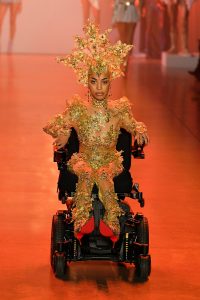 Jillian's career continues to flourish. Taking to the catwalk at New York Fashion Week in her Quantum Edge  was an industry first and  an image that will go down in the history of NYFW. With regular features in a range of magazines, Jillian highlights the importance of technology and continuing developments in the tech industry to aid people with disabilities in their daily lives.
" There's no way I could be as independent as I am without my electric wheelchair. The coolest thing about the Quantum iLevel is that it goes up and down to adjust to who you're talking to – I use it at events so I don't have to look up all the time "
Quantum iLevel® Power Chairs feature a revolutionary new power chair design for a better experience. iLevel improves daily functionality and quality of life by allowing operation of the power chair with the seat fully elevated while at walking speed (at 4.5 mph).. iLevel's patented Extra Stability Technology® enhances safety for transfers, reach, and numerous other activities of daily living. For more information on power chairs with iLevel contact us on 021 4618000 or email info@mmsmedical.ie
Read our client stories about how Quantum powerchairs are enhancing their lives :