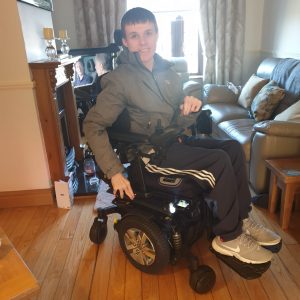 Our wonderful client, Dylan Nelson, is delighted with his new Quantum Q6 Powerchair from MMS Medical. So delighted he is that he sent us these wonderful photos and video.
Our Senior Product Specialist, Ray Ryan, worked with Dylan's Occupational Therapist to find the best solution for him. We take great pride in our personalised service to assist you and your family to select products to take on life's daily challenges. We have a team nationwide so there's always an MMS team member close by. The Quantum Q6 is engineered to meet the performance needs of the most active user. Dylan loves the superior styling of the powerchair and selected " Back in Black" colourway for its sleek looks and cutting edge design – Its a real head turner!
Replacing a powerchair is both exciting and daunting for clients. Don't be overwhelmed by the product choice, our products specialists will take the time to simplify the selection and assessment process ensuring product features, functions and pricing are relevant to the clients clinical and lifestyle requirements. Ray took time to consider Dylan's routine and the functional elements he wanted. Dylan loves speed and is very happy with the motor option on his Quantum Q6. In his Quantum Q6 Dylan can move faster than his previous chair!
With built in  iLevel® technology, Dylan can now drive quickly with his friends and family and be at eye level with them.  iLevel® Power Chairs feature a revolutionary new power chair design for a better experience. iLevel improves daily functionality and quality of life by allowing operation of the power chair with the seat fully elevated while at walking speed (at 4.5 mph). iLevel's patented Extra Stability Technology® enhances safety for transfers, reach, and numerous other activities of daily living. Dylan is loving this feature and the new opportunities it allows him.
Dylan is delighted with the suspension in the front and rear which allows improved indoor manoeuvrability and a great outdoor drive. Dylan sent us this video heading out from his home and the ease with which he can manoeuvre the powerchair out the door , through his driveway and onto the footpaths in his park in Crumlin, Dublin!
We wish Dylan wonderful adventures in his new Quantum Q6 powerchair and take this opportunity to thank him for allowing us to share his story and we look forward to hearing more updates from him in the future.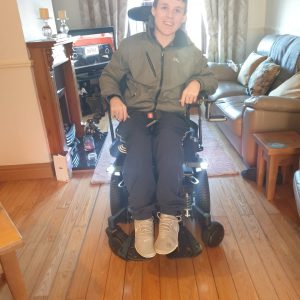 If you want to know more about the Quantum range of chairs , iLevel® technology or any other products please give the MMS Team a call on 021 4618000 or 01 4500582. We'll be happy to help.