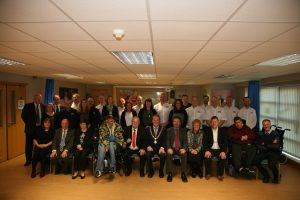 MMS Medical has the most comprehensive mobility and homecare product range in Ireland. We cover everything from rollators to scooters, wheelchairs, stairlifts, home lifts, commercial lifts, specialist seating, bathing & toileting and air purifiers – HEPA 13 filter.
A family company
MMS Medical is an Irish family company, founded in 1986 by Mr. Gerard O'Herlihy. Having worked in the healthcare sector for over 25 years, Mr. O'Herlihy started his own business to provide customers with bespoke products and a personalised, caring service. The O'Herlihy family continue his legacy today and while the company has grown significantly to become one of Ireland's leading medical equipment suppliers, the ethos remains the same.
At MMS we know how important family is and why it is often difficult to select products at a time when a loved one has been injured, suffering from an illness or needs more assistance as they get older. We take great pride in our personalised service to assist you and your family to select products to help improve daily and help a loved one regain independence.
Virtual Stairlift Assessments & Quotations
MMS Medical has introduced its Simple 3-Step Virtual Stairlift Assessments and Quotations in response to the current Covid_19 Government restrictions and guidelines. With many elderly and vulnerable people advised to self-isolate, we have have quickly responded to the ongoing need for helping those concerned to get the equipment they need. MMS Medical has been installing stairlifts nationwide for over 30 years. Our experienced Stairlift Team can carry out a virtual assessment of your stairlift requirements simply and quickly from photos of your stairs. This type of assessment is designed to ensure those requiring a stairlift can do so without the need for an at-home consultation.
Our priority is the health and safety of our employees and customers. We have put in place robust protocols and procedures to ensure safe installation of stairlifts at this time. Typically a Straight Stairlift can be fitted in 3-4 hours while a Curved stairlift will be installed in 5-6 hours. You & your loved ones will be able to cocoon in another room in the house while the installation takes place. An installation time will be agreed n advance to suit you.
The simple MMS Easy 3-step approach can be followed by all  in the safety of their own home.
You are unique
Everybody is unique and so our products range continues to expand to meet customer needs. We source products from all over the world to ensure we can improve clients' personal and functional needs in each sector of our business. We do not sell online believing the best product match is achieved through personal interaction and assessment. We are proud to work with clients over a lifetime rather than just a quick sale. We have a team of product specialists caring for customers nationwide so there's a team member always close by.
Product Choice
Don't be overwhelmed by product, our products specialists will take the time to simplify the selection and assessment process ensuring product features, functions and pricing are relevant to the clients clinical and lifestyle requirements,
We have a team of experienced product specialists nationwide to assist you with your queries and product selection. We are happy to talk to family members, visit you at home, provide a product demonstration or you may call to our Cork showroom. You can rely on a caring and personalised approach from initial enquiry to installation.
Product Categories
At MMS Medical we are committed to providing safe and reliable equipment for people with reduced mobility and those who care for them to make everyday life easier. Our product categories include wheelchairs, powered mobility, scooters, power add-ons, hoists, bathing and toileting support, specialized seating, stairlift, and home lifts.
Peace of Mind
At MMS Medical our product partners are selected following an extensive screening process ensuring fit with our high-quality product reputation. All our products are sourced and designed to meet European best practices. Our product partners are experts in their field and we can rely on these products to maximise performance, functionality, reliability and endurance. Our products and support services are designed to make life simpler and safer for all our customers and those who care for them. With a fully trained team of service engineers operating from bases all around the country and backed-up by a fleet of fully equipped vehicles, MMS can help with all mobility equipment servicing and repairs so you can have peace of mind you're in safe hands..
How to contact us
Please give use a call on 021 4618000 or 01 4500582 or email us info@mmsmedical.ie. You may also complete the request a call back form here on our website.
We look forward to hearing from you.