With canvassing well underway by all political parties in the General Election 2020, the Changing Places Campaigners are using this opportunity to highlight the Changing Places Campaign.  Equipped with the Changing Places Ireland Manifesto, members are drawing attention to the need for more Changing Places to be installed around the country to allow people with a disabilities to be part of their communities. 13.5% of the Irish Population has a disability (www.cso.ie) and while many accessible toilets meet their needs there is a large proportion of people and their carers who cannot visit public places due to the lack of suitable toilet facilities. The Changing Places campaign in Ireland is highlighting the need for more of these types of facilities to allow families, friends and carers take part in activities and visit places such as a zoo, libraries, swimming pools, shopping centres and sporting arenas most of us take for granted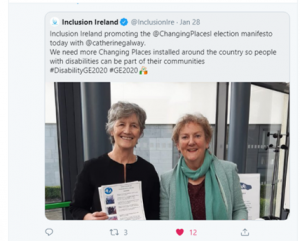 What does the Changing Places Manifesto Include ?
Changing Places facilities are urgently needed in every county in Ireland.
There are currently only 12 registered Changing Places in Ireland :
8 in Dublin
1 in Limerick
1 in Wexford
1 in  Offaly
1 in Meath
There are over 1,300 Changing Places in the UK and 36 in Northern Ireland.
Changing Places are different from standard disabled toilets, extra space, and additional equipment of a ceiling hoist and an adult sized changing bench are included. Without Changing Places many parents have to change a family member on public toilet floors. Many people are not going on day trips or to the cinema simply because the will not find a toilet with the right equipment
2. The Changing Places Ireland campaign is calling for the Department of Housing, Planning and Local Government to grant aid to local authorities and voluntary organisations to install Changing Places in every county. The estimated cost is €855,000.
3. The Changing Places Ireland campaign wants Part M of the Building Regulations changed to make it mandatory for new public buildings to be " universally designed ", thereby incorporating Changing Places facilities in new buildings.
The Origins of the Changing Places Campaign in Ireland 
Ailis Healy, supported by her mother Ann Healy, set up a Facebook page in 2012 to highlight the lack of appropriate changing facilities in Ireland after becoming aware of the Changing Places lobbying movement that was taking place in the UK.
The first meeting of the Changing Places Ireland Working Group, formed by Inclusion Ireland following consultation with Changing Places UK and comprising of a number of like-minded individuals and organisations, took place in November of 2014 and was the beginning of a coordinated response to the lack of fully accessible toilets in Ireland. The Changing Places Ireland campaign set out to introduce fully accessible toilets to public places such as shopping centres, libraries and sporting arenas across the country.
Changing Places Ireland consists of parents, elected representatives and organisations working in the disability space including the Disability Federation of Ireland, Irish Wheelchair Association and Inclusion Ireland, Central Remedial Clinic. For more information see Changing Places Ireland
In a recent Irish Times Article, Noirin Clancy from Inclusion Ireland told the politicians there are 12 such registered facilities in the country – eight in Dublin in places like Áras an Uachtaráin, the National Gallery and Ikea, but none in the north west . As a result parents find themselves "changing family members on the floors of public toilets". She urged the candidates "if you are elected could funding be ring fenced to grant aid businesses and local authorities to make sure there is one in every county".
One young man in a wheelchair indicated that he was reluctant to go into Sligo with friends and family because there is no registered "changing place", a fully accessible toilet with hoist and changing bench, in the town .
Changing Places Ireland Criteria – Equipment for Accessible Bathrooms
Changing Places must meet a range of criteria in order to qualify for registration. This is achieved through a self-assessment process at Changing Places Ireland Registered Changing Places will receive signage for the facility and will be listed on the Changing Places Ireland map. At present there are only twelve registered facilities in Ireland.
Floor Area must be a minimum of 12m2 (3m x 4m ) with a ceiling height of 2.4m
Full Room coverage ceiling track hoist system
Height-Adjustable, Adult Sized Changing Bench
Centrally located toilet with sufficient space both sides for assistants/ transfer
Privacy Screen
Wide Paper Roll
Large Waste Disposal Bin
Washbasin
Toilet/ Changing facilities which do not meet all the Changing Places Criteria may be listed as Step-Down facilities. The full list of Changing Places and Step Down Facilites in Ireland is on Changing Places Ireland
Installing a Changing Place
MMS Medical offers a full turn-key solution for your Changing Place facility providing you with one supplier to meet all your equipment and installation requirements. MMS Medical is one of Ireland's leading suppliers of mobility products in Ireland and we are well positioned to balance the technical specifications of these facilities with the actual users needs and requirements. Our experienced team have the knowledge and skills to take the project from start to finish. We partner with local authorities, charities and private companies on Changing Places Installations.
If you would like assistance on Changing Places Design and Installation or discuss a Changing Places project,  please email us your information at info@mmsmedical.ie or complete the contact us page on this site. Our customer service team is on-hand Monday to Friday to assist with your enquiries on 021  461 8000