The Changing Places Facility in Marlay Park, Dublin has been shortlisted for an Excellence in Government Awards 2019 in the Disability Provisions Category. MMS Medical were delighted to work with Dún Laoghaire-Rathdown County Council on the Marlay Park Changing Places which opened in May 2019.
13.5% of the Irish Population has a disability (www.cso.ie) and while many accessible toilets meet their needs there is a large proportion of people and their carers who cannot visit public places due to the lack of suitable toilet facilities.  The Changing Places campaign in Ireland is highlighting the need for more of these types of facilities to allow families, friends and carers take part in activities and visit places such as a zoo, libraries, swimming pools, shopping centres and sporting arenas most of us take for granted. Changing Places facilities are different from standard accessible toilets. They have many features and additional equipment that make them even more accessible than the standard accessible toilets we are all familiar with. Changing Places facilities provide 12m² of floor space, and include both a full room coverage ceiling track hoist, a centrally located toilet bowl with space either side for transfers or assistants, and a height-adjustable adult sized changing bench.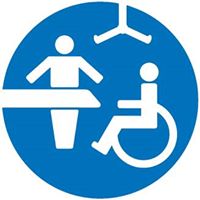 Changing Places facilities are designed to enhance the health, safety, comfort and dignity of someone who may need extra support and additional equipment during personal care tasks. Changing Places facilities also offer added safety and support features for assistants. Sadly, many people with disabilities have to go through the indignity and unhygienic option of being changed on the floor of a public toilet as the correct facilities are not available in public places. These crucial Changing Places facilities offer the opportunity for the disabled community to travel, shop, visit new areas of interest and attend concerts. For full details of where you can find a Changing Place in Ireland visit https://changingplaces.ie/find-changing-places/
Changing Places Campaign Ireland
The Changing Places Ireland Campaign is supported by Inclusion Ireland, Irish Disability Foundation and the Irish Human Rights & Equality Commission.  The Changing Places initiative seeks to secure fully accessible toilet and changing facilities for people with disabilities and who may need extra support to use these facilities.

Recognising the importance of providing a Changing Place facility in Marlay Park, Dún Laoghaire-Rathdown County Council chose to upgrade an existing building to a achieve a registered Changing Places facility.  With of 12m² of floor space , a centrally located toilet for space either side for transfer or assistants, MMS Medical supplied and installed the full room coverage OpeMed overhead ceiling hoist and the Pressalit adult size height adjustable changing bench. We provided Changing Places signage and instructions for use for all products for easy operation by facility users. To further assist the user of the new Changing Places facility we created operational instruction videos for both the OpeMed ceiling hoist and the Pressalit changing bench which can be found on the councils own website. https://www.dlrcoco.ie/en/parks-outdoors/parks/changing-places
The Changing Places facility is located through the archway in the Marlay Park Courtyard. There is a universal key available that works for Changing Places facilities and other accessible WCs or you can access a key for the Marlay Park Changing Places Toilet at Brambles (Boland's) Coffee Shop. Opening hours: 9am – 5.30pm.
Excellence in Local Government Awards
MMS Medical would like to congratulate Dún Laoghaire-Rathdown County Council for their projects which have been shortlisted  in seven different categories in the 16th annual Chambers Ireland Excellence in Local Government Awards.  This is the state's most prestigious national awards competition for Local Authorities in Ireland.
The Excellence in Local Government Awards showcase best practice in local government and recognise the skills, hard work, innovation and enthusiasm within local government that can often go unrecognised. The Excellence in Local Government Awards are held in conjunction with the Department of Housing, Planning and Local Government.
An Cathaoirleach of Dún Laoghaire-Rathdown County Council, Cllr. Shay Brennan said,
"I would like to congratulate all those involved in the Dún Laoghaire-Rathdown County Council on being shortlisted for seven Awards in the Chambers Ireland Excellence in Local Government Awards. Being shortlisted for the national Awards demonstrate this Councils commitment to excellence and innovation in service delivery."
The Marlay Park Changing Places facility has been shortlisted in the Disability Services Provision Category and is the first Changing Places Facility in Ireland to be nominated for such an award.
The Disability Services Provision category seeks to celebrate the provision of services that enhance accessibility or improve quality of life for all citizens in a Local Authority. This category may include disability friendly services, customer charters, signage and initiatives among others, which increase the provision of services for disabled members of the community and as such enhance the quality of services and access for a greater number of people in the area.
Working constantly with a variety of local and national stakeholders is part of the daily business of this local authority. While the Council was the lead agency in terms on inception, delivery and co-ordination, a number the projects were undertaken with the invaluable assistance of members of the local community groups and with colleagues in Government Departments and its agencies. The full list of  Dún Laoghaire-Rathdown County Council projects that were shortlisted and their categories of entry is below.
Changing Places in Disability Services Provision
Smart Sandyford in Promoting Economic Development
dlr Online Grants Management System in Local Authority Innovation
Electric Dreams in Sustainable Environment
My Open Library at Deansgrange Library in Best Library Service
Otranto Seaside Gardens, Sandycove, Co. Dublin in Enhancing the Urban Environment
The Commemoration of the Centenary of the Sinking of the RMS Leinster in Commemorations and Centenaries
The Excellence in Local Government Awards are held in association with Chambers Ireland and the Department of Housing, Planning and Local Government. The winners will be announced at the 16th Annual awards ceremony 28 November 2019 at the Crowne Plaza Hotel, Northwood, Santry.   Awards will be presented for Local Government Excellence in sixteen different categories and one local authority will be awarded the overall award and named Local Authority of the Year 2019.
MMS Medical – Your Changing Places Ireland Partner
MMS Medical has over 30 years experience in the survey and installation of assisted bathrooms & toilets, ceiling hoists and changing benches in a wide range of facilities across the country. We provide specialist advice, on-site appraisal, specifications & product recommendations through to full installation of specialist bathing, toileting and patient transfer equipment for architects, builders, developers, local authorities, case managers, facilities managers and property managers. We have carried out installations in schools, colleges, universities, care homes, commercial buildings, sports complexes and private homes. The Changing Places Campaign is aimed at delivering more of these types of facilities in public places.
MMS Medical offers a full turn-key solution for your Changing Place facility providing you with assistance and advice to  meet your equipment, installation, signage and  registration requirements. MMS Medical is one of Ireland's leading suppliers of mobility products in Ireland and we are well positioned to balance the technical specifications of these facilities with the actual user needs and requirements. Our experienced team have the knowledge and skills to take the project from start to finish. We have a range of support material available to assist you in preparing for your campaign right through to installation of a Changing Places facility. Our nationwide team are on hand to advise and to meet with advocacy groups to highlight this national campaign and to install more Changing Places facilities around the country.
Contact MMS Medical 
If you would like to discuss a Changing Places project or want MMS Medical to carry out an on-site, free of charge appraisal please email us your information at info@mmsmedical.ie or complete the contact us page on this site. Our customer service team is on-hand Monday to Friday to assist with your Changing Places enquiries on 021  461  8000