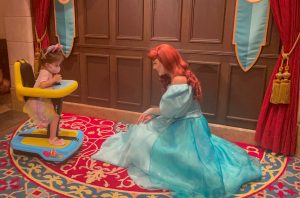 This is why we do what we do at MMS Medical. This is why we strategically partner with companies like Permobil that invest heavily in R & D to bring better client solutions to the market. This is always about the end result – improving the lives of people with mobility hurdles to overcome.
Saskia lives in Hong Kong. Her parents tried to source a mobility aid for their daughter as she was unable to stand or walk. Not happy with the solutions they were presented with, they got in touch with MMS Medical on a trip home to Ireland. Our product specialist Micheal O'Riain went to meet the family, conducted an assessment and showed the family the new Explorer Mini from Permobil. It was a match made in heaven. Saskia loved the product, the bright colours and was soon zooming around.  The family returned to Hong Kong with the Explorer mini and says it has made such a difference to Saskia's live and the family's too. We are delighted to share the photos sent to us from Saskia on a recent family holiday in Disney World in Florida. Saskia got to meet and greet all her favourite princesses. This is one well travelled little lady and so is her aptly named Explorer Mini.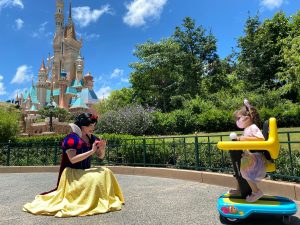 "We cannot speak highly enough about the Explorer and yourself ( Micheal O'Riain) for all the assistance you gave us. Not to bore you with videos but Saskia has even done the limbo in her Explorer! "

Dear Micheal,

Thank you so much for your help in finding me the best mode of transport ever. I absolutely love my Explorer and it has changed my life in Hong Kong, both at school, at home and with my friends. I am now an awesome driver too 1

Thanks again and love from Hong Kong

Saskia, Aisling & Ian
Exclusively available in Ireland from MMS Medical, the Explorer Mini from Permobil is a power mobility solution designed to aid in the achievement of developmental milestones by introducing self-initiated movement for children with mobility impairments at an earlier age. The first years are about exploring to understand how things work.
The Explorer Mini is an ergonomic device with multiple weight bearing surfaces to help promote safe, stable upright postures. The intuitive design provides just the right amount of support enabling young children with mobility impairments opportunities to develop strength, endurance and postural control. The Explorer Mini gives very young children with mobility impairments the opportunity to increase their independence through exploration. Its intentional design, approachable aesthetic and growth adjustability encourages self-initiated independent movement.
At only 52 lbs, the Explorer Mini is a lightweight, easy to transport power mobility device that empowers families and children to explore and learn in home and community environments.
The intuitive design featuring integrated table and backrest is supportive and allows freedom of movement. While the adjustable saddle seat supports hip development and facilities functional sitting or can be removed for incremental standing activities.
The
Explorer Min

i
is a lightweight, easy to transport power mobility device that supports development and encourages self-initiated exploration. At a fraction of the weight of a typical power wheelchair families can take the Explorer Mini wherever they go allowing their child with mobility impairments the opportunity to explore and learn in home and community environments.
The Midline proportional joystick with bright yellow ball handle helps promote visual development, reaching, grasp and release and use of bilateral upper extremities while providing multiple sensory input experiences for the very young child with mobility impairments.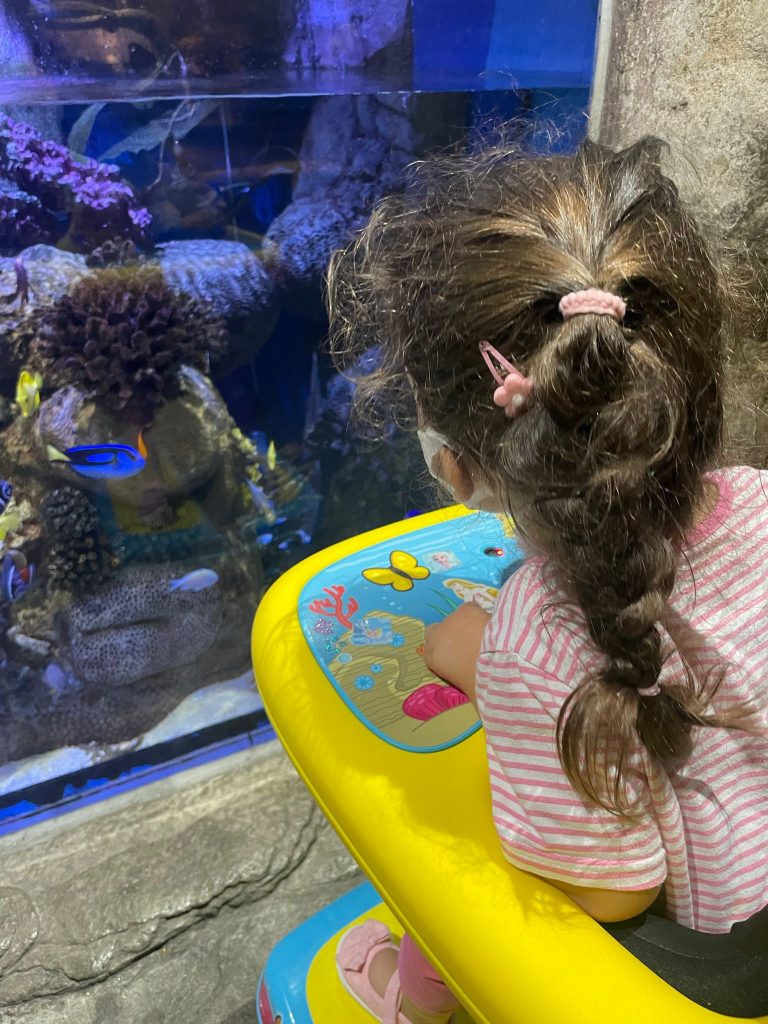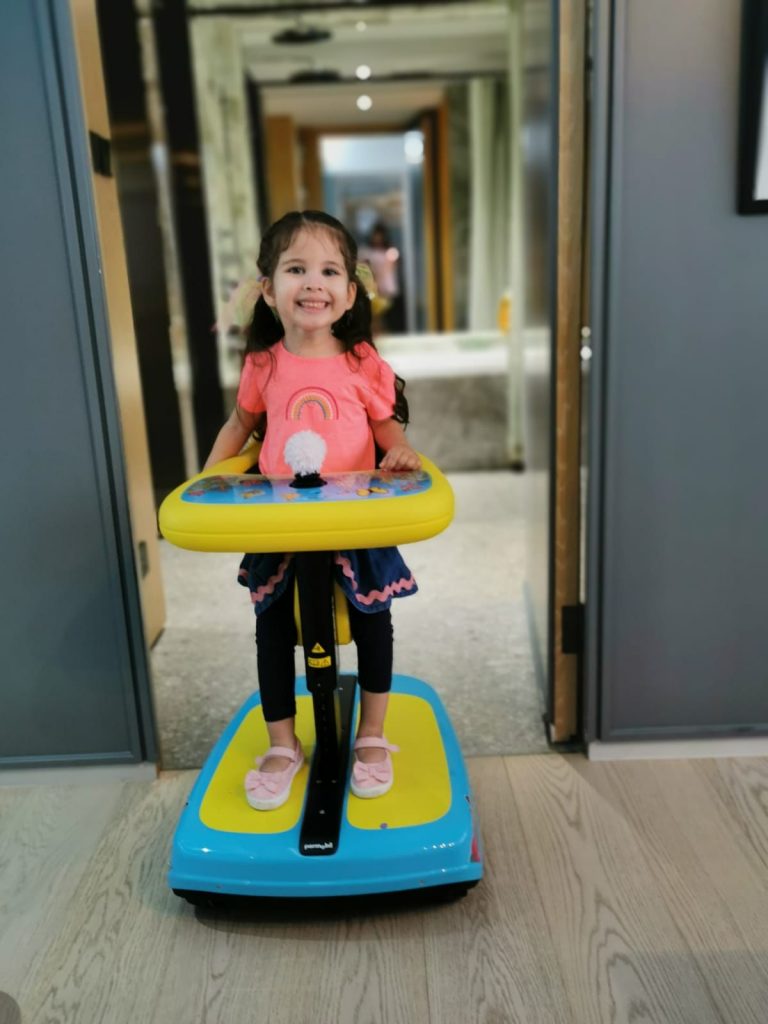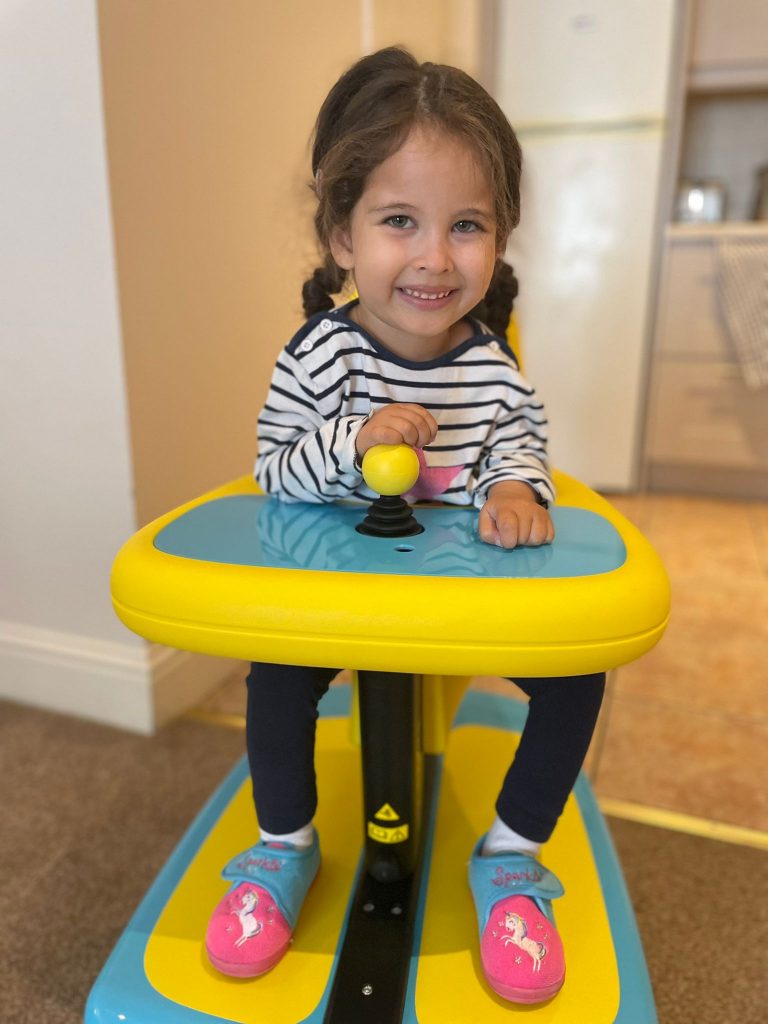 See here for more information on the
Permobil Explorer Mini

.
To arrange an appointment with the Explorer Mini call us on 021 4618000 or email info@mmsmedical.ie