Daniels' family contacted MMS Medical to enquire about a riser recliner. Daniel is in now in a care home and the family were looking for a seating option that would provide both postural support and comfort as he is seated for long periods of time during the day. With reduced mobility he was sitting in a wheelchair watching tv or during daily activities. Both his occupational therapist and the family felt this was not the best option and at times was not providing the best support, particularly when Daniel would have a rest during the afternoon.
The family visited the MMS showroom and Jessica took them through the options for riser recliners. Jessica is an experienced member of the MMS team and has extensive product knowledge on the range of riser recliners at MMS with daily dealings with healthcare professionals, hospitals, care homes and families. Listening to the personal requirements of Daniel and the care home requirements, Jessica suggested the C1 petite Waterfall Back Riser Recliner.  Jessica also followed up with the occupational therapist to give her the details on Daniels new chair.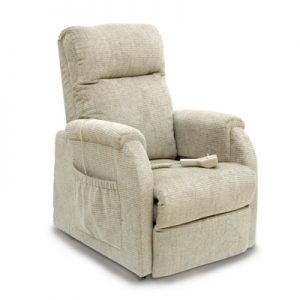 The C1 petite Waterfall Back Riser Recliner is a dual motor lift chair. The dual option of both rising and reclining to a lay flat position would suit Daniels needs and make it easier to get in and out of the chair. The reclining position provides comfort while he is resting, and the waterfall back provides him with the necessary back and head support he wasn't getting in the wheelchair. Jessica suggested the petite size as it would fit neatly into his room but also wouldn't take up unnecessary space in the day room or tv room that is shared by other residents.
To ensure easy cleaning and maintenance by the care home, Jessica recommended the vinyl option. As the product was in stock the turnaround time was quick. Sean delivered the C1 petite riser recliner to the care home and  ensured the product was placed in the correct room. Sean provided an on-site product demonstration to the staff who will be operating the chair. The C1 petite riser recliner has simple controls and requires no set up so Daniel was sitting comfortably straight away. Jessica followed up with the VAT reclaim forms and ensured all paper work was complete.
"It's been great to see Dad so comfortable and as he always had "his chair" at home it's nice that he can have "his chair" here too. Jess took the time to talk us through the options and her product recommendation has fitted in perfectly into his room. He is now very comfortable when seated for long periods during the day. Thank you to Jess and all the staff at MMS Medical.  We will certainly be recommending MMS Medical to other families." J.O, Cork
Everyday activities such as reading, chatting, working and watching television are usually done sitting down. A good sitting posture allows us to perform daily tasks without having to consider how we sit in terms of balance, stability or comfort. Sitting comfortable with the required postural support is especially important for those with reduced mobility or recovering from illness. Our range of postural support seating not only takes into account good posture but they also look good too! We have a wide range of seating types, fabric options and functionality to fit your requirements.
For further information on our range of riser recliners please visit our Cork showroom or call us on 021 4618000 or email info@mmsmedical.ie. We deliver nationwide and have a team of caring specialists around the country so there's always a team member nearby.