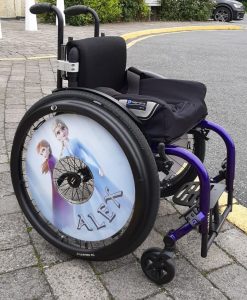 With the movie Frozen being the Number 1 animated film in the world, it was only fitting that Frozen Fan, Alex got the MMS Medical star treatment for her new chair. Working with Occupational Therapist, Noreen O'Keeffe of Enable Ireland Kilkenny, our Senior Product Specialist Ray Ryan, delivered a Tilite ZRA manual wheelchair with Dreamline STX cushion. As an active user,  the Tilite ZRA is the ideal lightweight choice. With full adjustability and a minimalist mono-tube frame, the ZRA portrays style without boundaries. As a growing young lady, the chair has depth growth of up to two inches built into the chair.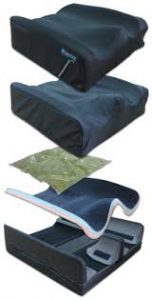 Combined with the Dreamline STX cushion the solution offers wonderful postural management as well as skin protection. The Dreamline STX cushion incorporates "Cluster Gel" packs. These are small stretchy bags of polymer gel pieces which all move independently of each other in a fluid like way. The packs of gel easily attach anywhere to the comfort wrap of the Dreamline STX cushion offering even further customised positioning & pressure management options. It's not surprising that the Dreamline STX Cushion is ranked No.1 on contract HSE 6190
The chair is also adapted for transportation with silver brackets fitted to the chair to mount a headrest for use for school bus transportation.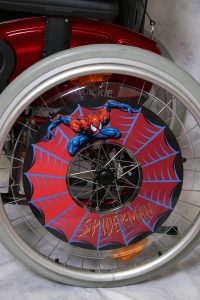 The Tilite ZRA is available in a wide range of frame colours,with purple being the colour of choice. MMS Medical also supplied the customised spoke guards to complete this stand out look. As every princess needs the perfect outfit, Alex was so delighted with her new chair colour that a trip to the shops was required before unveiling her new chair to everybody.
See our HSE Contracts section for full product details and specifications. For further information contact the MMS Medical team on 021 4618000 or email info@mmsmedical.ie