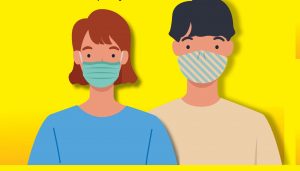 As the wearing of facemasks becomes our new norm it's important to wear them correctly to provide the best protection. The Government has advised the wearing of a face covering in situations where it is difficult to practice social distancing. For example, in shops and on public transport. Face coverings help prevent people who do not know they have the virus from spreading it to others. If you wear one, you should still do the important things necessary to prevent the spread of the virus.
Do
Clean your hands properly before you put it on.
Practice using it so you are comfortable putting it on and taking it off.
Cover your mouth and nose with it, all the way down to under your chin.
Tighten the loops so its snug around your face, without gaps.
Carry unused face coverings in a sealable, clean, waterproof bag, for example, a ziplock.
Carry a second similar type bag to put used face coverings in.
Don't
Do not touch a face covering while wearing it – if you do, clean your hands properly.
Do not use a wet or soiled face covering.
Do not share face coverings.
Do not lower your face coverings to speak, eat and smoke or vape – if you need to uncover your nose or mouth take the face covering off and put it in the bag for used face coverings or replace with a new face mask.
Do not discard face coverings in public places.

Removing your face mask correctly
Remove it from behind the ears – do not touch the front of the mask
Put disposable masks in a bin straight away or store in sealable bag until you can dispose of carefully.
Clean your hands properly
For the latest public health guidelines and up to date information on Covid_19 please visit HSE website
MMS Medical has protected people for over 30 years.  Our medical grade facemasks in stock & available for delivery throughout Ireland for both healthcare professionals and private clients. . Call us 021 4618000 or email ppe@mmsmedical.ie