The Vicair Academy Back consists of a shell construction made of ABS plastic, covered with a Vicair Academy cushion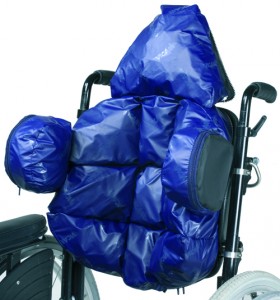 The Vicair® technology uses air filled SmartCellsTM. The low surface friction of these cells allows them to move easily against each other and to conform precisely to the body's contours.The individual deformation of the SmartCellsTM further enhances this conformity.
The result is a stable and comfortable body support, combined with superior pressure distribution.The mounting system developed for the Academy Back consists of four arms which hook on to four matching brackets.This universal system is height-adjustable and can be used on most types of wheelchairs.The back shell with cushion can easily be lifted from the brackets, which, if necessary, allows the wheelchair to be folded for transport.
The angle of the Academy Back shell can be adjusted between 80 and 117 degrees relative to the back posts of the wheelchair.The Vicair® Back cushion is divided into nine compartments that can be adjusted in cell density to conform to the user's individual back contours.