The active passive trainer for lower body exercise for adults.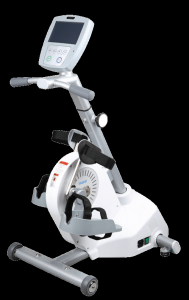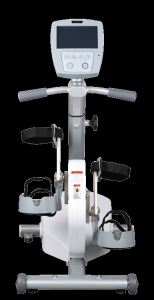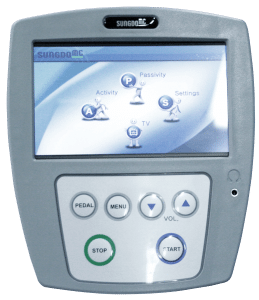 Motor Fit Pro – Active-Passive Trainer for Adults
The Motor Fit Pro Active-Passive Trainer from MMS Medical is ideal for long-term care, cardio-pulmonary rehab, and physical therapy facilities. The series offers versatile exercise options and unparalleled safety features. The specialist training device offers Active ( with muscle power ), assisted or Passive ( motor powered ) exercise possibilities.
We all know the benefits of having an exercise plan. Regular exercise helps people maintain strength and flexibility, increase circulation, improve balance and coordination and strengthen heart and lungs. Active Passive Trainers are great tools for individuals with limited or little active function. The Active Passive trainers are ideal for wheelchair users to keep muscle strength and maintain good posture when seated in a wheelchair. Ongoing exercise is vital for wheelchair users to maintain their strength and flexibility which aids their independence and in doing so the quality of life.
The Motor Fit Pro Active Series provides therapeutic solutions for individuals with low functional capacity, long term rehabilitation need, or other physical limitations. The Active-Passive trainers are designed for daily use in hospitals, clinics, gyms, elderly care facilities and for personal home use.
Features of the Motor Fit Pro – Active – Passive Trainers
The AP Pro can be used for lower-body exercise in a space-saving design.
Bi-directional exercise in Active or Passive Modes. Customize each patient's exercise session with 15 resistance levels and speeds from 4 to 60 rpm.
Passive Assistance – In the Passive Mode, the AP Pro automatically reduces powered assistance as the patient's strength and power input increases.
Spasm Control Function – The AP Pro automatically stops after detecting a spasm and continues in the desired direction to relieve spasm. For additional safety, the exercise session is terminated after three spasm episodes.
Easy to use console with voice guidance on SP2100.
LCD touch screen on SP2100
Suitable for use by wheelchair users
The electric motor is very quiet.
MEASUREMENTS INCLUDE (SP2100)
Ratio of Active versus Passive exercise – monitor improvement in overall functional capacity.
Ratio of Active exercise – right versus left side – track reduction in unilateral deficits and monitor exercise symmetry.
Total time, distance, and number of spasm episodes during exercise session.