Statistics show we go to the toilet on average eight times a day! Having to be helped undertake such a personal basic hygiene function can have a huge impact on a client's independence and feeling of dignity.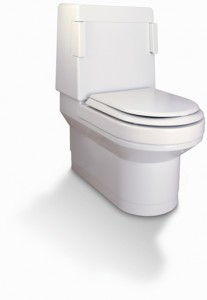 Developments at MMS, in conjunction with its partner Total Hygiene, are changing that, with a range of equipment aimed at restoring the ability to toilet with little or no help!
The Clos-o-Mat Palma 'wash and dry' toilet, manufactured by Total Hygiene, is already the UK's biggest-selling unit of its type, and is fast becoming the standard in Ireland: Clos-o-Mats are now installed at, among other venues, the Carmel Fallon Respite Centre at the Irish Wheelchair Association's headquarters campus and the National Rehabilitation Hospital, enabling users of both facilities to experience the pleasure of toileting, unaided, and being assured of being hygienically clean afterwards, without having to manually wipe with toilet tissue…
A Clos-o-Mat looks like a conventional WC, and can be used as one, but simply by retaining hand or body pressure on the flush pads the toilet then douches and dries the user without the need for manual cleaning by the user or their carer. Unlike any other unit of its kind on the market, the Clos-o-Mat can be used easily with wheelchairs and shower chairs, being the only 'wash and dry' toilet developed specifically for disabled people.
Karen Cronin, manager of Carmel Fallon, sums the Clos-o-Mat up: "It is very convenient and effective, and can be used by everyone, regardless of their level of disability."
Adding to this, Peter O'Herihy, Director of MMS commented "As each month goes by, we're supplying and installing more and more clos-o-mats around the country. With all the options available, we find it can be tailored to suit all clients' needs, both elderly and disabled. Because it can be used as a normal toilet and it looks like a high quality bathroom fitting as well, it's becoming a very popular toileting solution for our customers."
MMS Medical News Archive