The Dreamline STX Cushion with its deep 80mm contouring is fully adjustable enabling supportive stable positioning for symmetrical to severely asymmetrical postures. Unique 'Cluster Gel' pack inserts comfortably redistribute pressure for "high needs" users. All adjustments made with hook & loop fasteners for quick adjusting.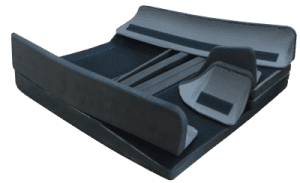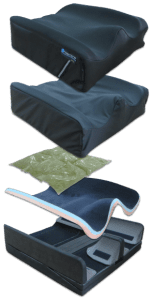 The Dreamline STX cushion incorporates "Cluster Gel" packs as optional extras. These are small stretchy bags of polymer gel pieces which all move independantly of each other in a fluid like way.
No more fluid leaks! Gel always under the user!
The packs of gel easily attach anywhere to the comfort wrap of the Dreamline STX cushion offering even further customised positioning & pressure management options.
Features & Benefits
Lowering femurs individually to accommodate hamstring tightening.
Accurate depth & Rotation adjustability of pre-ischial shelf for pelvic positioning.
Pelvic Obliquity build-up pads included.
Ability to offset laterals & Pommel for windswept postures.
Pommel may be widened / narrowed for Abduction / femoral rotation.
Leg length discrepancy cut-out.
Components may be further cut with a sharp knife
The STX can be used in chairs, including specialist seating and standard home chairs
A range of size options are available