The Duoform® is an innovative multi-bearing surface cushion made of high-density foam & gels.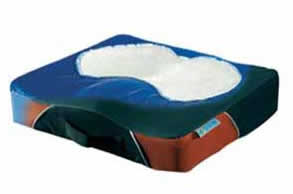 The viscoelastic fluid gel (white pad) ensures reduction of the maximum pressures on sensitive areas without generating punching and shear forces, while the regular gel (blue pad) redistributes the pressure transferred on less risky areas.
The anatomically shaped high-density foam, moulded with gels, enables enlargement of the contact surface and thus maximum pressure reduction, but also greater comfort, and it prevents sliding.