The Freeway T40 Showerchair is a very popular model. It comes with a variety of options, four total stop castors and footrests as standard.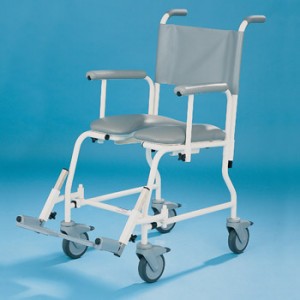 It is available in three different seat widths; 17", 19" and 21" and a choice of seat types; horseshoe, aperture or fully padded (no aperture). If the horseshoe or aperture is selected, the actual aperture is available in small, medium or large.
The backrest is available with either horizontal or vertical push handles. The choice of armrest includes straight, half wide for an extra 50mm width and wide for an extra 100mm of width. Footrest choice includes standard (shown), raised, toe straps with heel supports or heavy duty aluminium.
Other models include self-propelled.
All Freeway models are weight tested to 200kg (30st)